UNIQUE & INNOVATIVE PRODUCTS
for the installation, operation and maintenance of fire hydrants.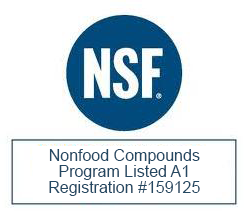 Fire Hydrant Degreaser • Eco-friendly • NSF A1 Registered
Specifically formulated for use on fire hydrants, this new NSF-registered degreaser effectively cleans nozzle and cap threads during fire hydrant maintenance. This product works hand in hand with Hydra-Eze™ Anti-Seize lubricant, which can be applied after using Hydra-Kleen™ to thoroughly degrease and clean the nozzle and cap threads.
Hydra-Kleen™ is a uniquely formulated, NSF A1 registered aerosol spray. The degreaser's powerful foaming action dissolves and breaks down weathered/contaminated compounds previously applied to nozzle and cap threads, simplifying the maintenance process. More importantly, Hydra-Kleen™ will make a hydrant even more reliable during emergency situations.
While this product was designed specifically for use on fire hydrants, it can be used anywhere a degreaser is needed.
Assured Flow Sales, Inc. warrants that all of it's product are free of defects in material and workmanship. Assured Flow Sales, Inc. will replace at no charge any of it's new products found to be defective within one year of the date of purchase from Assured Flow Sales, Inc. Assured Flow Sales, Inc. shall not be liable for any loss, damage or injury, direct or consequential arising out of the use of or the inability to use the product. Before using any product the user of the product shall determine the suitability of the product for it's intended use and assumes all risk and liability. No claims for labor or consequential damage will be accepted.
INTERESTED IN OUR PRODUCTS?
Fill out the form below, and we will be in touch with you soon.
MORE PRODUCTS FROM ASSURED FLOW SALES, INC.