UNIQUE & INNOVATIVE PRODUCTS
for the installation, operation and maintenance of fire hydrants.
GRADELOK®
Many times during installation, a hydrant is set far below or above grade. Using Gradelok® gives you the ability to set a hydrant perfectly to grade, any time an installation takes place.
Specifying Gradelok® gives you the advantages of a restrained joint and grade adjustment in a single fitting. You'll provide enhanced aesthetic appearance by having all fire hydrants set exactly to grade. And by specifying Gradelok® you'll save money by eliminating expensive extension kits and concrete thrust devices. Be sure to specify Gradelok®, the system providing the very best hydrant installation available.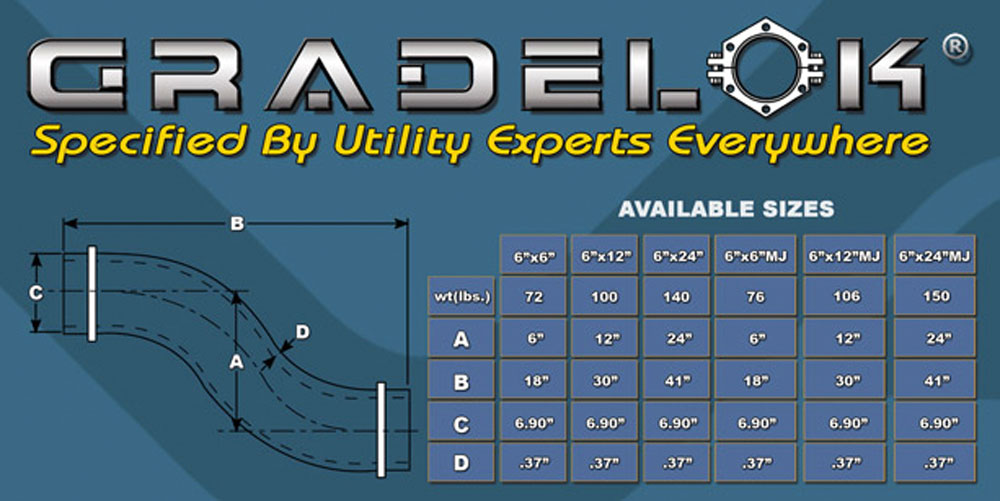 Reasons for specifying Gradelok®"
Reduced installation costs and taxpayer budget savings are an important consideration, however… Public utility directors, politicians and taxpayers should demand the specification of Gradelok® for the public safety benefits!
Fire Department wrenches – approximately 15″ long need appropriate clearance from groundline to nozzle centerline of 18″ to spin the caps off quickly in an emergency.
At properly-installed nozzle centerline of 18″, ONE fireman can easily attach a suction hose by holding it between his knees while threading the coupling. Hydrants installed too high or low require at least TWO firefighters to hook up.
The 18″ distance is the most effective to enable a fire hydrant's traffic feature to break properly upon impact. If the traffic flange is buried or set too high, chances of it breaking correctly upon impact are greatly reduced.
The traffic flange is always exposed, easily-inspected for damage or leakage during routine maintenance.
At a uniform installation height, firefighters can most-quickly identify fire hydrant locations in an emergency.
Gradelok® is manufactured of 350 Ductile Iron, cement-lined inside and tar-coated outside for corrosion protection, and conforms to AWWA C153/ANSI A21.53/AWWA C104/ANSI A21.4
Resources
Assured Flow Sales, Inc. warrants that all of it's product are free of defects in material and workmanship. Assured Flow Sales, Inc. will replace at no charge any of it's new products found to be defective within one year of the date of purchase from Assured Flow Sales, Inc. Assured Flow Sales, Inc. shall not be liable for any loss, damage or injury, direct or consequential arising out of the use of or the inability to use the product. Before using any product the user of the product shall determine the suitability of the product for it's intended use and assumes all risk and liability. No claims for labor or consequential damage will be accepted.
INTERESTED IN OUR PRODUCTS?
Fill out the form below, and we will be in touch with you soon.
MORE PRODUCTS FROM ASSURED FLOW SALES, INC.