UNIQUE & INNOVATIVE PRODUCTS
for the installation, operation and maintenance of fire hydrants.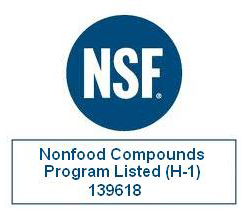 A premium food grade anti-seize for the nozzles and caps of fire hydrants.
Hydra Eze™ was specifically formulated to be a dependable, quality and long lasting anti-seize for the threaded connections on fire hydrants. Hydra Eze™ is a premium, synthetic, food grade, non-drying anti-seize compound formulated with a balanced blend of PTFE and other lubricating solids, homogenized into a non-melting grease carrier. Hydra Eze™ is engineered to provide a superior leak proof seal for the life of the connection while at the same time maintaining its' anti-seize capabilities, allowing easy disassembly without causing damage to the threads.
While formulated for the threaded connections on fire hydrants Hydra Eze™ can also be used on various threaded connections on lines carrying numerous types of liquids and gases found in a wide variety of industries. Hydra Eze™ can be used on all brass, black iron, galvanized steel, stainless steel, aluminum, copper, pvc and fiberglass reinforced pipes. With a temperature range of -40*F to 1800*F you can use Hydra Eze™ from Alaska to Arizona and all points in between.
Hydra Eze™ does not contain any solvents, lead, graphite or clay fillers.
AVAILABLE IN:
9 oz Tubes with nozzle applicator
18 oz Jars with brush applicator
1 gal Jug
Assured Flow Sales, Inc. warrants that all of it's product are free of defects in material and workmanship. Assured Flow Sales, Inc. will replace at no charge any of it's new products found to be defective within one year of the date of purchase from Assured Flow Sales, Inc. Assured Flow Sales, Inc. shall not be liable for any loss, damage or injury, direct or consequential arising out of the use of or the inability to use the product. Before using any product the user of the product shall determine the suitability of the product for it's intended use and assumes all risk and liability. No claims for labor or consequential damage will be accepted.
INTERESTED IN OUR PRODUCTS?
Fill out the form below, and we will be in touch with you soon.
MORE PRODUCTS FROM ASSURED FLOW SALES, INC.